The digital experience your clients and advisors want.
The revenue channel you need.
Whether your goal is democratization of the investing process, a small accounts solution, a new revenue channel, lowering infrastructure costs, or faster client onboarding, the
FusionIQ One Digital Advice module will have you achieving your goals in as little as six weeks.
Products / Digital Advice
Customized Risk Tolerance
We know every organization likes to approach their risk tolerance questions in their own way, so we let you customize your risk tolerance questionnaire and scoring.
Your clients can be onboarded and investing in as little as five minutes on many of the most trusted custodians.
A Flexible Hybrid Advice Approach
Provide maximum flexibility over the digital investing process with a hybrid approach to the investment journey that enables you to offer digital advice that is client driven, rep assisted, advisor led, or a combination of both.
Show Your Clients the Big Picture. And Let Them Act.
A consolidated Digital Investor Dashboard lets your clients see their entire investment journey across multiple custodians in one place. And lets them invest in risk suitable portfolios.
Helping clients focus investing on life goals lets you deepen relationships. From goal identification during onboarding to an innovative goals calculator and a status tracker on the client dashboard, you create better financial outcomes.
Our SOC 2 Certification is your assurance data security is our top priority.
You Become the Industry Disruptor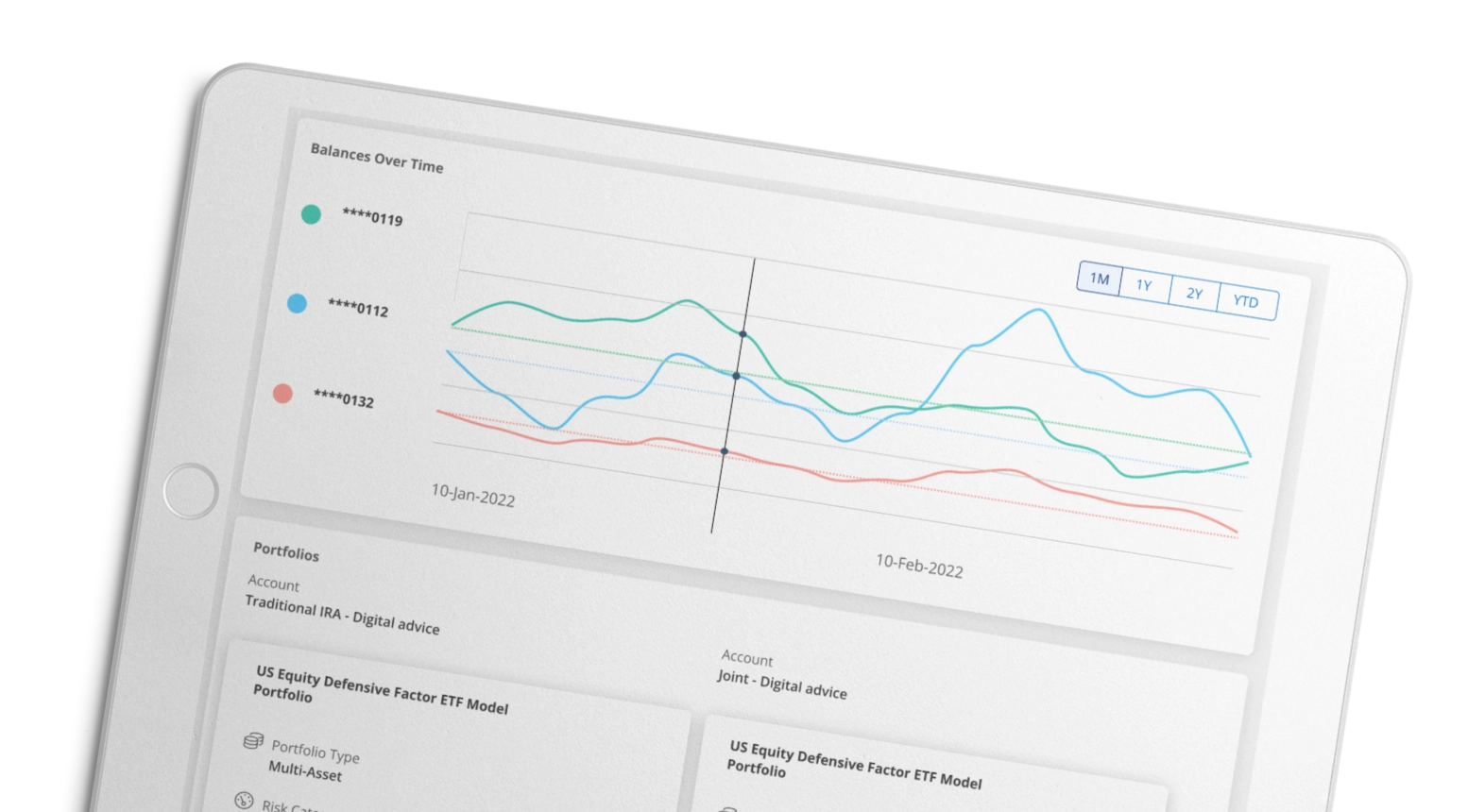 Give Your Advisors the Full Picture
Our digital Advisor Workstation puts your advisors in control of their practice with a dashboard that delivers a consolidated view of their entire book of business across multiple custodians.
Powerful Portfolio Management Tools
From rebalancing to order management and our Digital Model Marketplace, which lets advisors build their own portfolios or access third party investment models, FusionIQ One makes it easy for advisors to manage their client's investments.
Streamlined Digital Compliance
Our compliant friendly platform delivers AML, KYC, and CIP tracking for a fully automated middle office.
Seamless Integration of Back-Office Services
From compliance to reporting and custody, the FusionIQ One advisor portal seamlessly integrates your support functions giving you the ability to grow at scale.
Digital Wealth. Delivered.
FusionIQ also offers a digital workstation for financial advisors and their clients enabling co-planning and self-directed investing by the client, as well as other direct-to-client digital investing experiences, and practice management support for the advisor.
You don't get added to the ranks of the exclusive list of America Best TAMPS by doing things the same way as your peers.
FusionIQ provides a wealth management platform that provides a full-service and seamless advisor and client experience for independent broker-dealers, RIAs, banks and credit unions.
FusionIQ operates a digital investing platform that enables advisors to deliver a personalized, end-to-end investment experience to their clients at scale.
You don't get added to the ranks of the exclusive list of America Best TAMPS by doing things the same way as your peers.
An award-winning digital wealth management platform.
Highly Commended 2023 Fintech Futures Banking Tech Awards Best Digital Solution Provider
Double Finalist 2023 WealthManagement.com 'Wealthies' Industry Awards
Double Nominee Fintech/TAMP Platforms 2023 ThinkAdvisor LUMINARIES Awards
Double Finalist 2023 WealthManagement.com 'Wealthies' Industry Awards
Double Nominee Fintech/TAMP Platforms 2023 ThinkAdvisor LUMINARIES Awards
Asset Manager Platform of the Year 2022 Wealth Solutions Report
2021 Impact Innovation Award Aite Novarica
America's Best TAMPS 2021, 2022 and 2023​
The advanced FusionIQ One platform moves beyond data aggregation to provide transactional data, replacing several custodial back offices with the advisor portal.
Teams and Branch Management
From office teams to multi branch hierarchy, FusionIQ One gives organizations the flexibility to seamlessly manage permissions and controls, whatever your size and structure.
FusionIQ One helps advisors manage their practice with notifications and alerts that keep you on top of your client activity.
Additional Investment Journeys
We understand that some of our clients want additional investment journeys. FusionIQ One Plus provides additional investment channels including digital assets, alternatives investments, private securities, and fixed income.
FusionIQ integrates with many of the largest and most trusted custodians to minimize conversion risk.
For organizations using SSO, FusionIQ One Plus can quickly integrate to further enhance the employee and client experience.
FusionIQ One Plus offers an API suite to help with integrations so you can get even more out of your Digital Advice.
White Labeled to Build Your Brand
Your brand matters. Our dynamic white label process makes your brand take center stage with your clients.
FusionIQ One's multilingual platform structure lets you communicate with your clients in a variety of languages opening new opportunities for growth.
Whether it's using the FusionIQ One mobile app, or integrating our solution into yours, we deliver the mobile experience your clients want.
Dedicated FIQ Experience Team
We deliver a complete digital implementation experience let by our FIQ Experience Team. From dedicated onboarding resources and adoption consultation to expert relationship guidance, we're committed to making your digital advice program a success.